Class of 2012 Reunion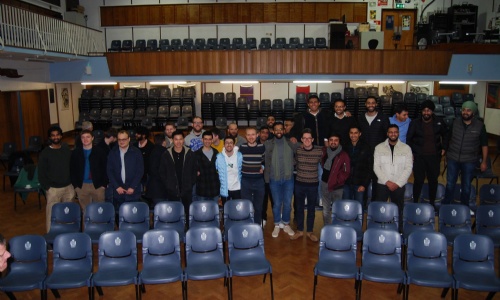 Almost 30 former students recently attended a 10-year reunion at King Edward VI Camp Hill School for Boys to relive fond memories of their time at the school.
In total, 29 'Old Boys' were joined by 5 ex-teachers and 9 current members of staff who remember the cohort well.
People travelled from as far away as London, Bristol, Oxford, Manchester and Liverpool to be with their old school friends, some of whom had not seen each other since the day they left the school after their final exams from 2005-2012.
Hakeem Javaid, one of the event's organisers, alum and serial entrepreneur (hakjav.com), told Leanne Beckett, the newly appointed CHB Development Manager: "Visiting room 6 our old form room was unexpectedly quite nostalgic! I remembered very clearly where I sat 17 years ago, and it was hilarious how everyone was finding their old books"!
He added: "It's been 10 years since we were at Camp Hill, and it was amazing to be able to catch up with our form tutor and old teachers who had such a big impact on our lives (something you only realise and appreciate after leaving school)".
"I was surprised at how moved everyone was, the nostalgia really hit us all! Being in the same place, around the same people, with the same teachers. It was beautiful. It's most definitely going to be a memory we'll never forget".
Hakeem created a video of the year group from old photographs and video footage from their first day in year 7 right through to their sixth form years, school performances and sports days featured. The assembled audience sat in the hall laughing at hairstyles whilst they reminisced with long-lost friends. The flash mob who invaded the school library with ties fastened around their heads caused the biggest laugh whilst watching the video!
"The reunion went very, very well, considering how much time had passed since we last saw each other" said another former student, "I enjoyed finding out the many different career paths friends had taken since leaving school, there did seem to be a lot of doctors in the room".
Russell Bowen, the current Headmaster took the Old Boys on tours of the school to take them on a trip down memory lane. They especially enjoyed retracing their steps down the science corridor and eating refreshments in the dining room like the good old times, as well as seeing the new facilities in the sixth form centre which was extended after they had left.
Hakeem and his friends hope to visit the school again at the 20-year reunion and the school would welcome them warmly and is looking forward to the next alumni event.